Patient expectations for cataract surgery have increased significantly over the past several decades as surgeons have transitioned from standard extracapsular techniques to clear-cornea phacoemulsification. In addition to short operating times, topical anesthesia, and a sutureless procedure, patients increasingly expect spectacle independence following cataract extraction. In this tutorial we present the case of a 59-year-old male with a visually-significant cataract and consider the intraoperative management of astigmatism in a representative case of an individual with small-to-moderate cylindrical error.
Presbyopia correction is discussed separately in a tutorial entitiled "Intraocular lenses for presbyopia" by Tim Johnson, MD, PhD.
Preoperative manifest refraction:
OD: -1.50 sphere
OS: -1.50 + 0.75 x 110
Preoperative best-corrected visual acuity
OD: 20/20
OS: 20/50
During the preoperative visit the patient indicated his desire for spectacle independence following surgery.
Astigmatism Options with Cataract Surgery
The surgeon has a number of options for the interaoperative management of astigmatism, including:
Relaxing incisions
Toric intraocular lens
Two-stage procedure with excimer laser ablation
Placement of surgical wound along steep axis of astigmatism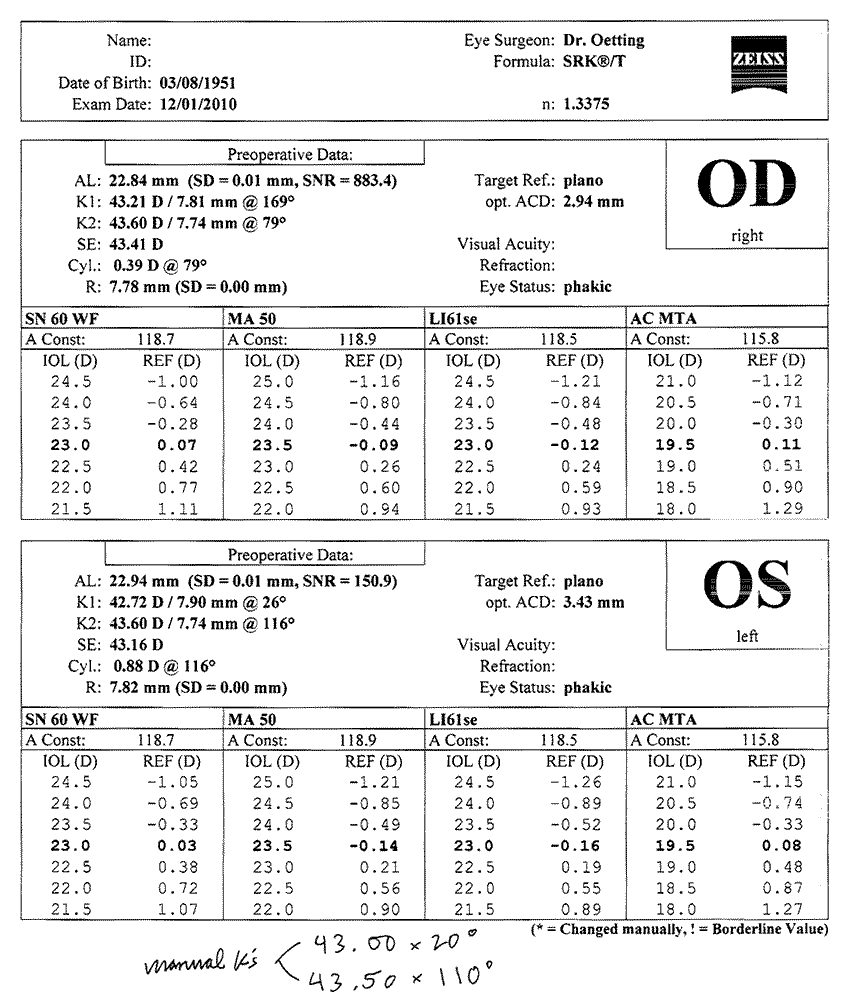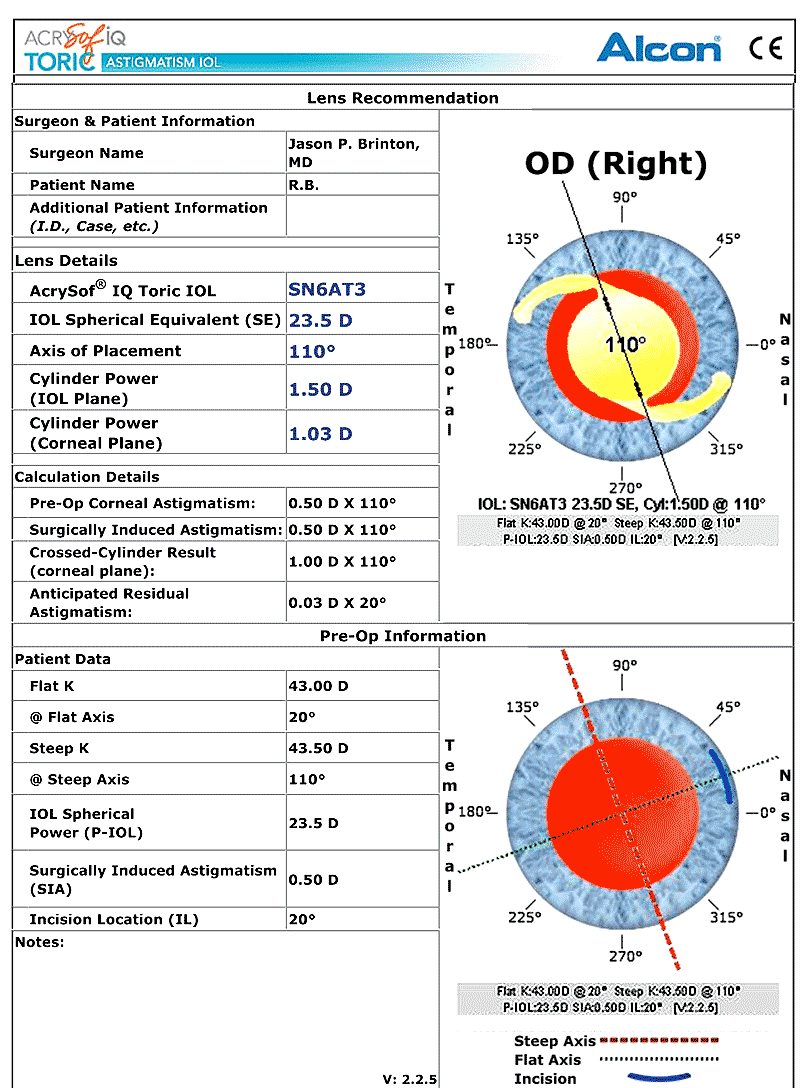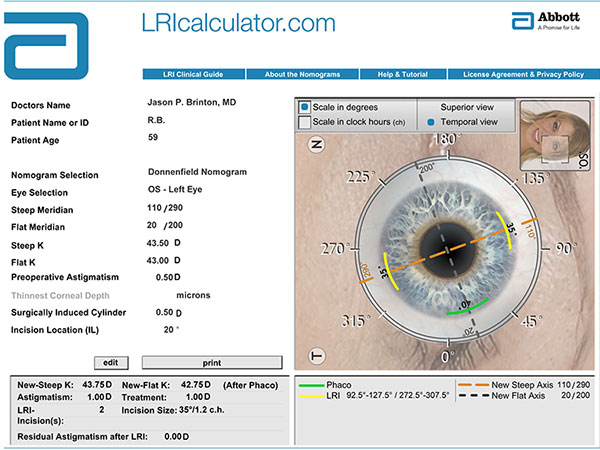 Topography
Topography showed regular bowtie with-the-rule astigmatism.
Manual keratometry
Manual keratometry was as follows: 43.00 @ 20° and 43.50 @ 110°.
Non-contact biometry
Non-contact biometry was performed and gave the following measurements: axial length 22.94mm, K1 42.72 @ 26°, K2 43.60 @ 116° (see Figure 1). Targeting plano, a 23.5D SN60WF lens was tentatively selected.
Toric IOL calculator
Some surgeons use keratometry readings from a single source (such as IOL Master) to enter in the online toric IOL calculator. Some surgeons use multiple sources. If keratometry readings obtained via manual and automated methods differ greatly, further investigation is warranted. If these measurements are close we have opted to use the manual keratometry readings. Other surgeons, notably Brian Little, use an arithmetic mean of the figures obtained by the different sources and input these numbers into the online calculator. We are presently using a 2.75mm clear corneal incision, which is typically responsible for about 0.50D corneal flattening when placed temporally.
In this case, assuming an incision placed at 20° (for convenience of hand position), the resultant crossed-cylinder astigmatism is 1.00D x 110° as shown on the toric IOL calculation sheet. Using an SN6AT3 23.5D SE lens oriented at 110° would yield an anticipated residual astigmatism of 0.03D X 20°. The patient has no history of trauma or any other condition leading us to suspect loose zonules.
LRI calculator
The LRI calculator called for paired 35° or 1.2-clock-hour peripheral corneal relaxing incisions centered at 110°. The planned residual astigmatism following the procedure would be 0.00D. The patient did not have dry eye or any other contraindication to LRIs.
Discussion
After discussing the various options with the patient we decided to place the wound along the steep axis of astigmatism. Postoperatively the patient had a negligible amount of asgtigmatism and had excellent uncorrected vision at distance. He was pleased with the results of the procedure.
---
---
Budak K, Friedman NF, Koch DD. Limbal relaxing incisions with cataract surgery. J Cataract Refract Surg. 1998;24:503-508. PMID: 9584246
Chang DF. Comparative rotational stability of single-piece open-loop acrylic and plate-haptic silicone toric intraocular lenses. J Cataract Refract Surg. 2008;34(11):1842-7. PubMed PMID: 19006728.
Chang DF. Early rotational stability of the longer Staar toric intraocular lens: fifty consecutive cases. J Cataract Refract Surg. 2003;29(5):935-40. PMID: 12781279
Chang DF. Repositioning technique and rate for toric intraocular lenses. J Cataract Refract Surg. 2009;35(7):1315-6. PubMed PMID: 19545827.
Mingo-Bot n D, Mu oz-Negrete FJ, Won Kim HR, Morcillo-Laiz R, Rebolleda G, Oblanca N. Comparison of toric intraocular lenses and peripheral corneal relaxing incisions to treat astigmatism during cataract surgery. J Cataract Refract Surg. 2010;36(10):1700-8. PMID: 20870116
Osher RH. Combining phacoemulsification with corneal relaxing incisions for reduction of preexisting astigmatism. Paper presented at: The Annual Meeting of the American Intra-Ocular Implant Society; 1984; Los Angeles, CA.
Pineda R, Denevich S, Lee WC, Waycaster C, Pashos CL. Economic evaluation of toric intraocular lens: a short- and long-term decision analytic model. Arch Ophthalmol. 2010;128(7):834-40. PMID: 20625042
Poll JT, Wang L, Koch DD, Weikert MP. Correction of astigmatism during cataract surgery: toric intraocular lens compared to peripheral corneal relaxing incisions. J Refract Surg. 2011;27(3):165-71. PMID: 20873707
---
Suggested Citation Format: Brinton JP, Oetting TA. Phacoemulsification: Considerations for Astigmatism Management. EyeRounds.org. June 20, 2011; Available from: https://eyerounds.org/tutorials/phaco-astigmatism-management.htm