The most common local anesthetic mixture is 2% lidocaine with 1:100,000 epinephrine to provide some hemostasis. Addition of 0.5% bupivacaine will provide longer anesthesia for lengthy procedures. The following diagrams illustrate common local nerve blocks used in ophthalmology.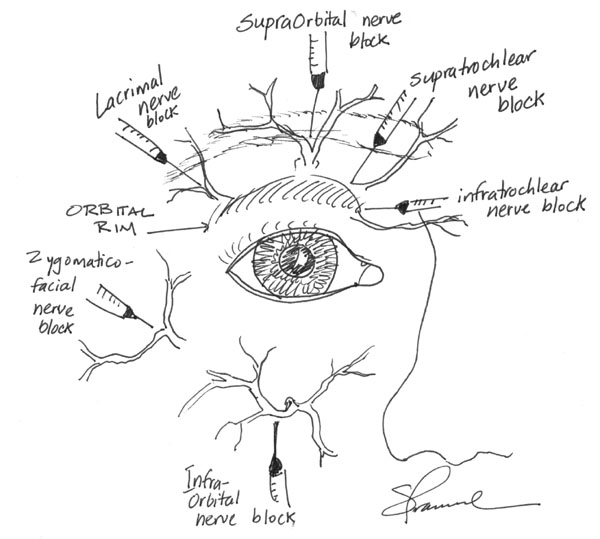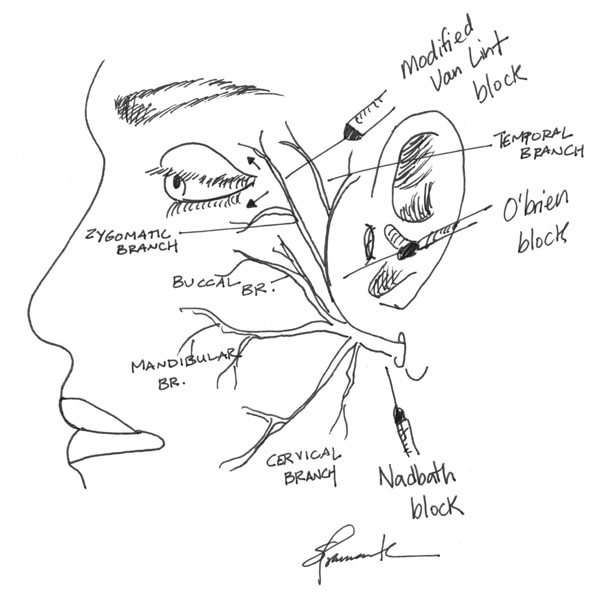 Retrobulbar blocks are useful methods of achieving anesthesia for intraocular and orbital surgeries. Blocks are good alternatives to general anesthesia when general anesthesia is undesireable or contraindicated.
There are many techniques to adminster a retrobulbar block. The method described here is what I prefer. Depending on the type of anesthetic, a block may last over four hours with a mixture of lidocaine 1% and bupivacaine 0.375%.
Clean the lower lid with an alcohol wipe.
Have the patient look straight ahead.
Use a 5 cc syringe and a 23 gauge, 1.5 inch flat grind needle.
Start 2/3 lateral along the inferior orbital rim (inferior to the temporal limbus) with the needle tip pointing perpendicular to the plane of the patient's face. Place the index finger between the globe and the infraorbital rim, elevating the globe.
Stabilize with the little finger and hypothenar eminence firmly on the bones of the patient's cheek.
Enter just inferior to the globe and perpendicular to the plane of the face.
Once you feel the first pop through the orbital septum, angle 45 degrees medially and 45 degrees superiorly towards the apex of the orbit until the second pop throught the muscle cone is felt.
Culver Boldt, MD (retina) moves the needle gently side to side while advancing beneath the globe. If the needle begins to engage the globe, then the eye will start to move side to side. Hopefully, one can stop advancing before globe perforation occurs. This move is controversial, because some feel it leads to a higher rate of orbital hemorrhage.
John Sutphin, MD (Emeritus faculty, cornea) suggests watching for globe movement. The globe should rotate downward when you engage the septum. As you go through, it should rotate back up. Failure to do so could suggest the needle is in the sclera.
Pull back on the syringe to ensure the needle is not in a vessel, then inject 3-5 cc of anesthetic, palpating the globe to assess for posterior pressure.
After withdrawing the needle, apply firm pressure to the globe with a 4x4 gauze (enough to occlude the central retinal artery) to tamponade any possible retrobulbar hemorrhage. Provide firm pressure for 90-120 seconds. Some suggest alternating 10-15 seconds of firm pressure with release of the pressure to allow perfusion of the central retinal artery. Studies by Sohan Hayreh, MD, PhD (Emeritus faculty, vascular) demonstrate that the retina is able to tolerate up to 90 minutes of non-perfusion before permanant damage.
CHEMICAL BURNS: POST-IRRIGATION CARE
Base injuries are more worrisome as they can penetrate deeper into ocular tissue. Grading of corneal burns is based on extent of limbal ischemia, which indicates loss of corneal epithelial stem cells, and degree of corneal haze obscurring iris details.
Hughes Classification of Ocular Burns
Grade 1 (Very good prognosis)

No corneal opacity nor limbal ischemia.

Grade 2 (Good prognosis)

Corneal haze but iris details are clear.
Less than 1/3 cornea limbus ischemia.

Grade 3 (Guarded prognosis)

Sufficient corneal haze to obscure iris details.
1/3 to 1/2 of cornea limbus ischemia.

Grade 4 (Poor prognosis)

Opaque cornea without view of iris or pupil.
More than 1/2 of cornea limbus ischemia.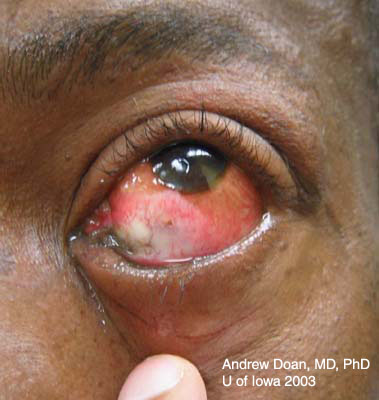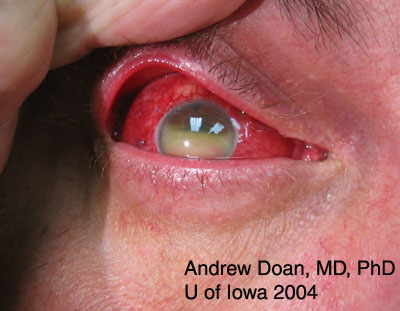 MANAGEMENT OF CHEMICAL BURNS
Grading helps to determine the aggressiveness and course of treatment. Treatment modalities include some or all of the following depending on the severity of the burn:
Debride necrotic tissue
Bandage contact lens
Quinolone: 1 drop 4-6x/day (prevents infection)
Prednisolone phosphate: 1 drop every 1-2 hr while awake to reduce inflammation
Vitamin C: 1-2 gm orally daily to reduce corneal thinning/ulceration
10% sodium citrate: 1 drop every 2 hr while awake (chelates calcium and impairs polymorphonuclear leukocyte (PMN) chemotaxis)
Scopolamine 0.25%: 1 drop three times daily (reduces pain/scarring with anterior chamber inflammation)
10% Mucomyst® (n-acetyl-cysteine): 1 drop 6x/day (mucolytic agent and collagenase inhibitor)
Doxycycline 100 mg orally twice daily (collagenase inhibitor)
Glaucoma drops/oral acetazolamide (Diamox®) if IOP elevated
Significant injury may require admission
ENDOPHTHALMITIS
The Endophthalmitis Vitrectomy Study (EVS) [2] applies only to post-cataract endophthalmitis. The study states that patients did better with a vitrectomy and injection of intravitreal antibiotics when the vision is light perception or worse. If vision is hand motions or better, then patients with a TAP (vitreous biopsy and culture) and intravitreal injection of antibiotics did as well as patients who had a vitrectomy and injection of intravitreal antibiotics.
If referral doctor suspects endophthalmitis, ask about penicillin allergy before patient is enroute.
Order intravitreal antibiotics immediately.
Call the senior resident so they can help you set up the minor room for a tap and inject. This can be difficult if the patient does not have a hospital number. In the past, I have given the patient's name and birthdate to the pharmacist, and they can look up the patient after they check in. The intravitreal injections only have a shelf life of about 2 hours, so do not order them too early.
Obtain gram stain and culture media (plates & liquid culture media) for aqueous and vitreous (1 set for each).
INTRAVITREAL ANTIMICROBIAL CONCENTRATIONS
Intravitreal vancomycin: 1 mg/0.1 ml in 1 cc syringe.
Intravitreal ceftazidime: 2.25 mg/0.1 ml in 1 cc syringe.
Penicillin Allergy: Intravitreal gentamycin: 100 µg/0.1 ml in 1 cc syringe or amikacin 200-400 µg/0.1 ml in 1 cc syringe. Some attending physicians prefer amikacin, due to its somewhat better toxicity profile.
Be sure there is at least 0.5 ml of antibiotic in syringe so you can transfer to a sterile syringe and still have enough left for your injection.
Suspect Bacillus cereus: Intravitreal clindamycin: 0.5 mg/0.1 ml (optional). To date, B. cereus is sensitive to Vancomycin.
Suspect fungus: Intravitreal amphotericin B: 5-10 µg/0.1 ml.